Qualcomm is set to redefine the PC landscape with the introduction of its flagship platform, the Snapdragon X Elite. Harnessing the prowess of the Oryon CPU core, these chipsets are poised to enhance performance. How much will they enhance?
As Qualcomm says, the Snapdragon X Elite chipsets aim to offer double the performance of some of the most revered chips from AMD and Intel. Now, Qualcomm has made similar claims before. But this time, they're backed by the acquisition of chip designer Nuvia.
Qualcomm Snapdragon X Elite Starts the Oryon Revolution
The beating heart of the Snapdragon X Elite lies in the Qualcomm Oryon CPU. Manufactured on a cutting-edge 4nm process node, it outshines Intel's Meteor Lake. Boasting a tri-cluster design with twelve cores, it exhibits a clock speed of 3.8GHz. It also bears the potential to boost up to 4.3GHz.
This Oryon CPU of the X Elite platform is paired with a colossal 42MB cache. It comes with a memory controller capable of accessing eight channels of LPDDR5x memory. That totals to a whopping 64GB.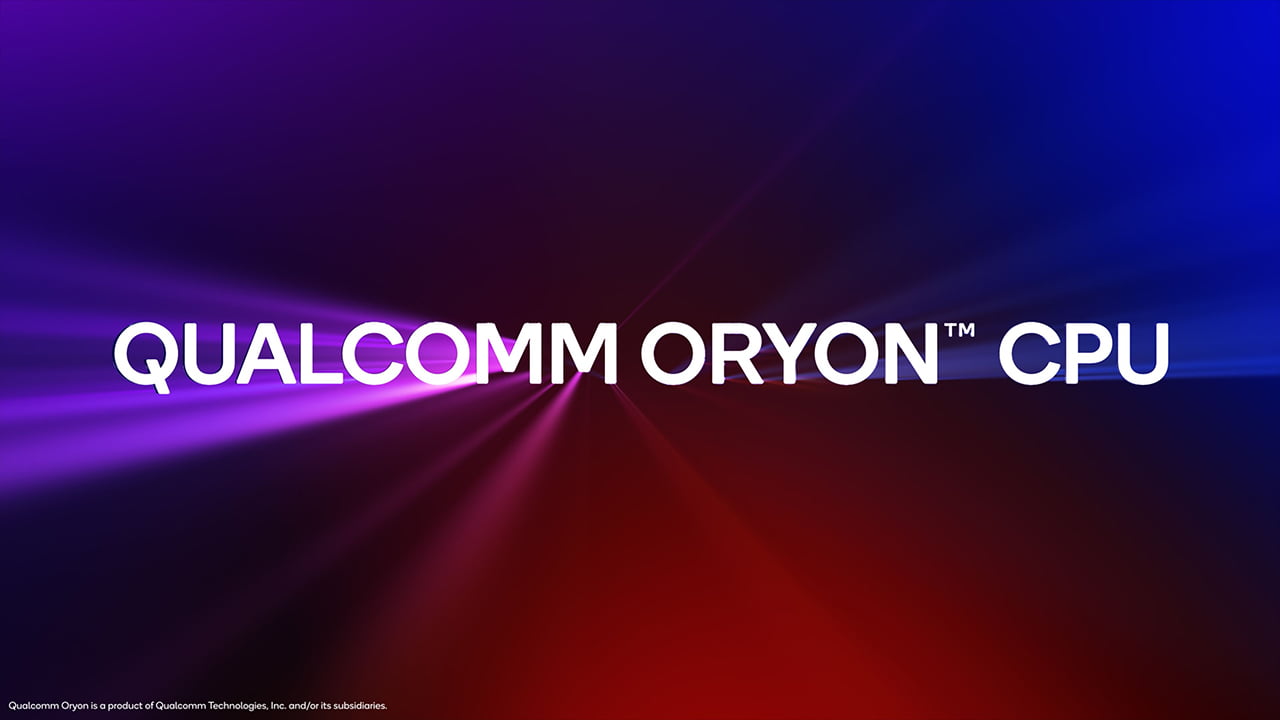 Qualcomm is pretty discreet about the new Adreno GPU. But the numbers are nothing short of impressive. Delivering 4.6 teraflops, it supports a 4K resolution and 120Hz refresh rate.
The new Adreno GPU of the X Elite platform has HDR10 capabilities for internal displays. What truly sets it apart is its capacity to power three UHD/4K displays.
It's also possible to run dual 5K displays via the embedded DisplayPort 1.4. It also introduces upgradeable software drivers, something mobile chipsets have lagged behind.
A Performance Paradigm Shift
Qualcomm claims that the Snapdragon X Elite outperforms popular 10-core and 12-core laptop CPUs. The new chipsets aim to deliver comparable peak performance to those CPUs. And it does so with significantly lower power consumption.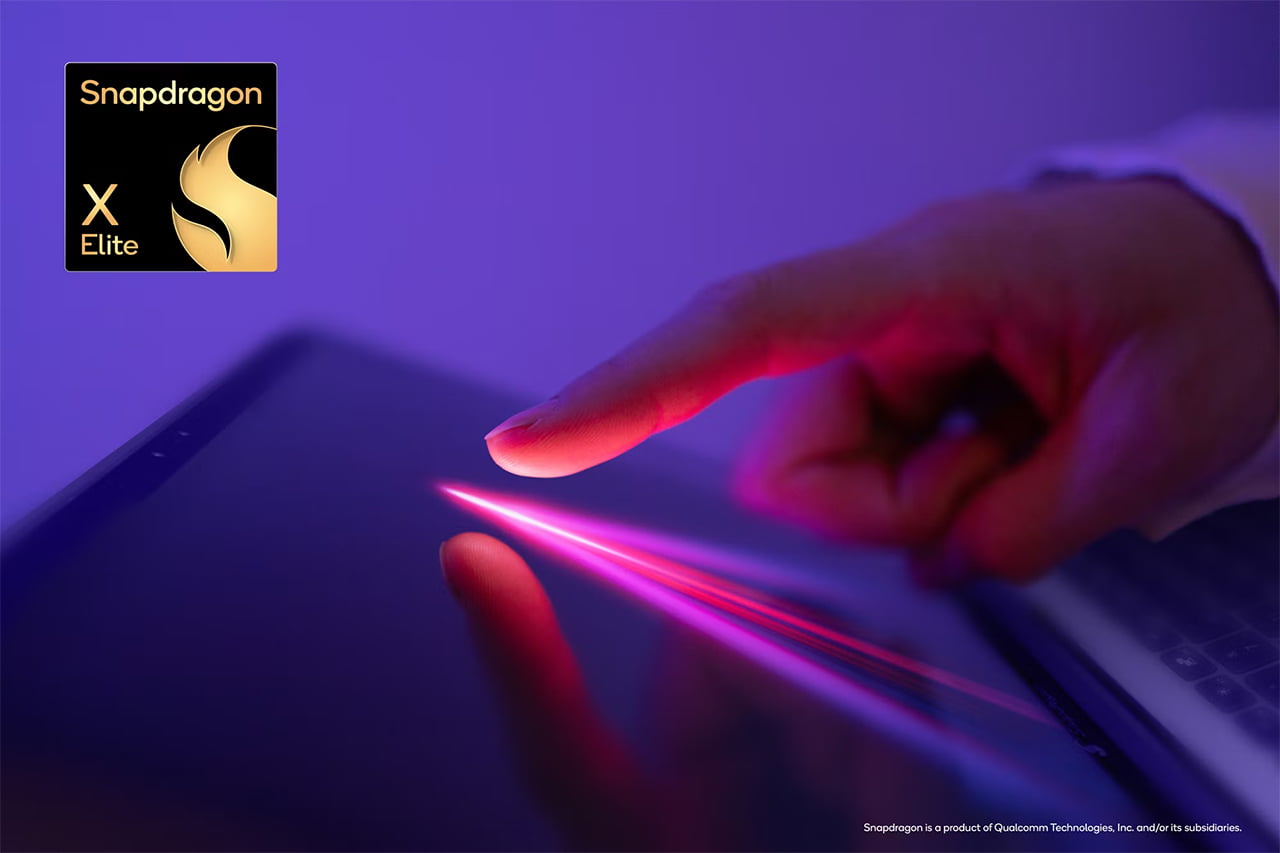 The X Elite's lower power consumption translates into unparalleled battery life. And that's something most powerful laptops can't offer.
Connectivity and Security Features of Snapdragon X Elite Platform
The Snapdragon X Elite platform includes a 10Gbps Snapdragon X65 modem for 5G capabilities. There's also Wi-Fi 7, lossless audio technology, and the Microsoft Pluton security feature.
In terms of connectivity, the Snapdragon X Elite platform can offer NVMe SSDs over PCIe Gen 4. It also offers three USB4 ports, including two 10Gbps USB-C ports.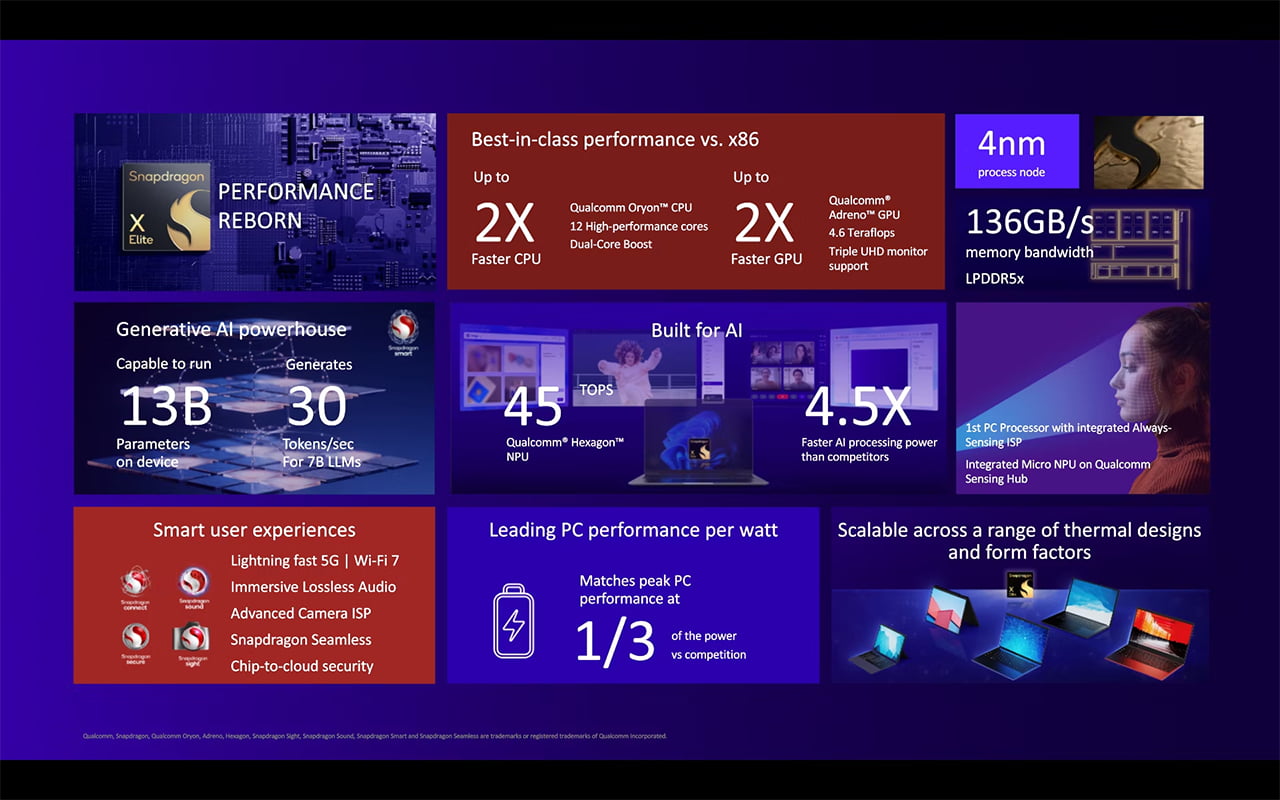 Beyond PCs: A Multi-dimensional Future
Qualcomm envisions Oryon not only as the driving force behind the PC, but as a pioneer in multiple domains. These include smartphones, automobiles, augmented reality devices and more. This speaks to Qualcomm's vision of becoming a "connected processing" company.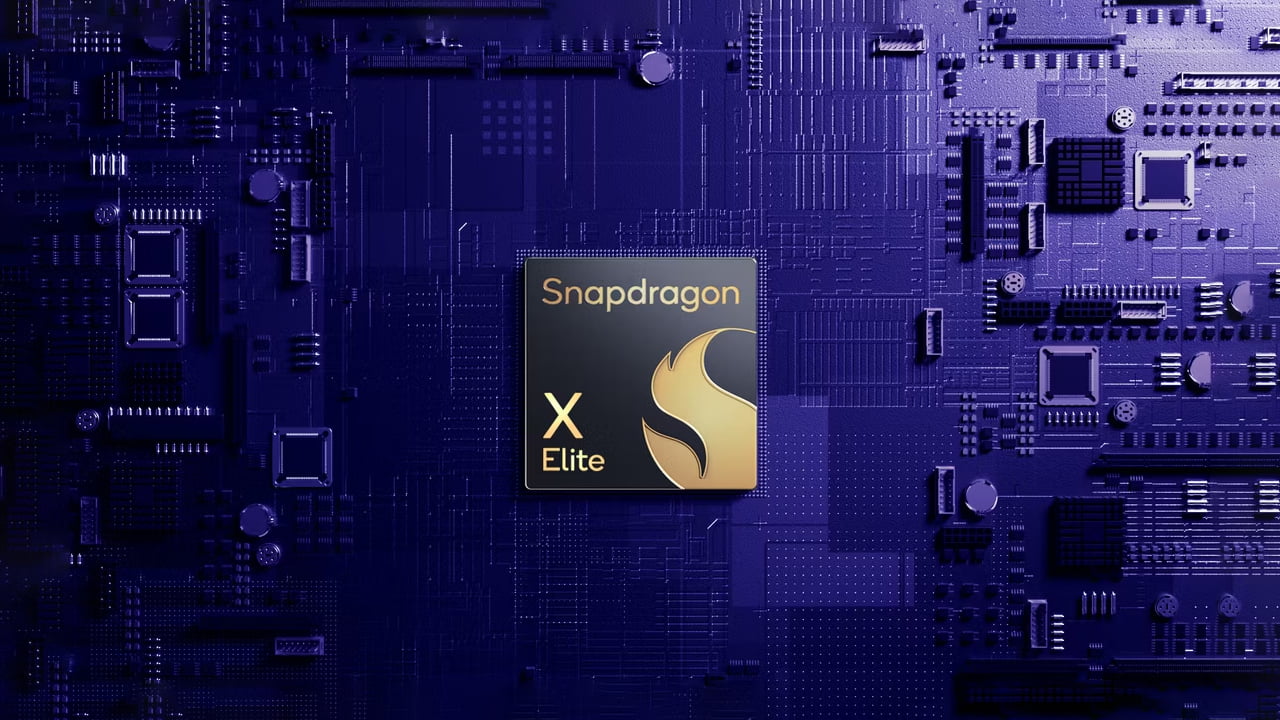 At the event, Qualcomm also introduced Snapdragon Seamless. This is a cross-device, cross-platform framework that promises seamless integration. By facilitating the communication of critical device metrics, this framework enables a cohesive digital ecosystem. Qualcomm 
Where Qualcomm Plans to Go with the Snapdragon X Elite Platform?
With Snapdragon X Elite, Qualcomm is poised to challenge the long-standing dominance of Intel and AMD in the PC space.
By combining power, efficiency, and intelligent processing, Qualcomm aims to redefine the PC experience. In doing so, the X Elite platform positions itself at the forefront of modernizing the PC ecosystem.
In case you were wondering, the Snapdragon X Elite chipsets will arrive in mid-2024. Industry leaders like Microsoft, Lenovo, Dell, and HP are already on board. These partnerships are a big deal for the platform. Hopefully, Qualcomm delivers all of its promises.

Meet Abid Ahsan, the trusted luminary behind BitsFromByte. With a degree in Computer Science and over a decade of experience, Abid's authoritative expertise shines through his in-depth guides, meticulous reviews, and timely news coverage on software, operating systems, consumer tech products, phones, PCs, and laptops. His dedication to accuracy, transparency, and unbiased reporting makes it easy for our readers to stay informed in this rapidly evolving tech landscape.