OnePlus is getting ready to unveil the OnePlus 12 lineup. As per the recent reports, the base model will land in China sometime later this month. But ahead of the launch, OnePlus has shared some crucial information about the device.
As you might know, the OnePlus 12 will feature the new Sony Lytia sensor. Li Jie Louis, the president of OnePlus in China, has also recently shared some camera samples of the phone. You can check them out at this link.
Right after sharing those samples, Li Jie Louis published an article. Through this article, he expressed his confidence in the imaging capabilities of the OnePlus 12. He also established that the device will outperform the competitors' Pro models.
More Details About the Camera Config of the OnePlus 12
As OnePlus has already confirmed, the OnePlus 12 will come with a class-leading customized imaging hardware. This hardware setup is developed in collaboration with Sony. The Android phone will equip Sony's LYTIA series camera sensor as the primary camera on the back.
The president of OnePlus has also confirmed the brand will continue the collaboration with Hasselblad. This means the camera setup of the OnePlus 12 will feature professional tuning of the camera-focused brand.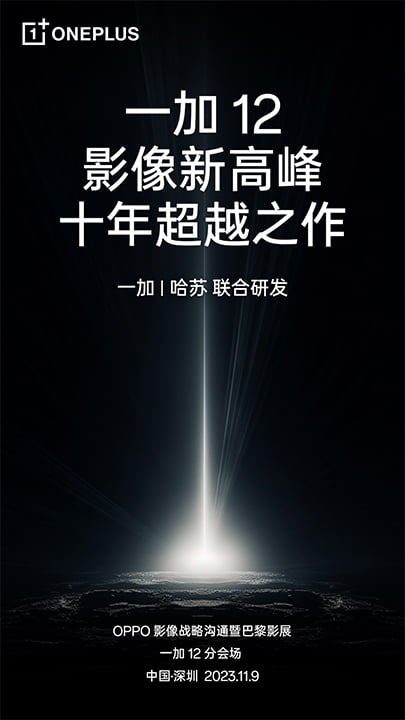 While OnePlus has yet to give extra details about the camera setup, reports are suggesting that it will be the same as OnePlus Open. That means the OnePlus 12 will likely feature a three-camera setup on the back. It will come with the Sony Lytia sensor, an ultra-wide angle lens, and a telephoto camera on the back.
This setup will make the smartphone extremely versatile in mobile photography. On that note, the images shared by the president before have already established that the phone can handle challenging lighting conditions. But Li Jie Louis said that the imaging team is working to further optimize the camera.
Li Jie Louis shared that the company will be showcasing OnePlus 12's camera capabilities at the OPPO Imaging Strategic Communication and Paris Film Festival. It's set for November 9, which is two days away. We will keep you updated.
News source: Li Jie Louis (Weibo)

Meet Abid Ahsan, the trusted luminary behind BitsFromByte. With a degree in Computer Science and over a decade of experience, Abid's authoritative expertise shines through his in-depth guides, meticulous reviews, and timely news coverage on software, operating systems, consumer tech products, phones, PCs, and laptops. His dedication to accuracy, transparency, and unbiased reporting makes it easy for our readers to stay informed in this rapidly evolving tech landscape.